Grantchester is an ongoing television series inspired by The Grantchester Mysteries, a series of seven crime fiction adventures featuring the clerical detective Sidney Chambers.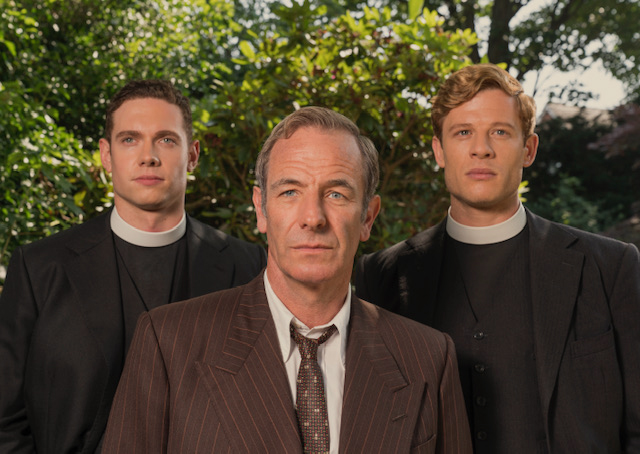 The series is set in the 1950's and stars James Norton, Robson Green, Tom Brittney, Al Weaver, Tessa Peake-Jones and Morven Christie. It is made by Kudos, for ITV in the U.K. and P.B.S in the U.S.A, streams on Amazon, and has been shown in over one hundred and thirty countries.
The village of Grantchester is located two miles outside Cambridge and sixty miles north of London. It was chosen for its iconic status as an English village, the subject of Rupert Brooke's great poem The Old Vicarage, Grantchester.
God! I will pack, and take a train,
And get me to England once again!
For England's the one land, I know,
Where men with Splendid Hearts may go;
And Cambridgeshire, of all England,
The shire for Men who Understand;
And of THAT district I prefer
The lovely hamlet Grantchester.
The television programmes differ from the books by advancing one year at a time from series to series, keeping Sidney Chambers unmarried throughout, and by introducing a new clergymen, Will Davenport, in Series 4. Although the plots are at variance with the books, the principle characters and the guiding original idea remain. It is an ethical history of post-war Britain, testing the response of its characters to crime, adversity and social change revealing, as far as possible, their moral values, compassion and humour.
What does it mean to lead a good life?
You can buy the books here: