The Great Passion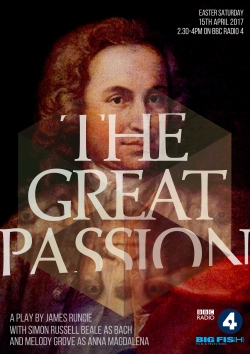 A play about how Bach's St Matthew Passion was written, composed, rehearsed and performed in the build-up to its first performance in Leipzig on Good Friday 1727. It was broadcast on Easter Saturday 2017 on BBC Radio 4.
Essentially, the play is about the nature of ambition and the desire to work as hard as you possibly can in the attempt to live a life that's worthwhile. It is about standards, deadlines, belief, passion and desire; and it confronts, head-on, the elemental human question of how to live and why we have to die.
The cast included Simon Russell Beale as Bach and Melody Grove as Anna Magdalena with music performed by the Dunedin Consort and conducted by John Butt. The director was Eoin O'Callaghan.
A stage version of the play was performed at Dartington Hall in the summer of 2018, directed by Richard Williams with music conducted by Rob Haworth.
This is now becoming a novel.
Written by James Runcie, Radio 4 Arts commissioning editor, this involving drama explores the genesis of Bach's St Matthew Passion, following the tense rehearsal period preceding its first performance in Leipzig on Good Friday 1727. Simon Russell Beale is compelling as the composer who puts huge pressure on his young choristers asking them to sing as if their own salvation depended on it but even more on himself. Glorious music is provided by the Dunedin Consort and choristers of St Mary's Music School with the play also acting as a helpful master class on how to get the most out of this magnificent work.
This was a perfect example of 'slow radio' … To appreciate it, you need the time and space to listen slowly, not expecting to be moved by the storyline but by the thoughts provoked by what Bach has just said. 'If we don't confront our darkest fears they will haunt us till we die'.