The Great Passion
A novel that explores
what it was like to sing Bach's music for the first time.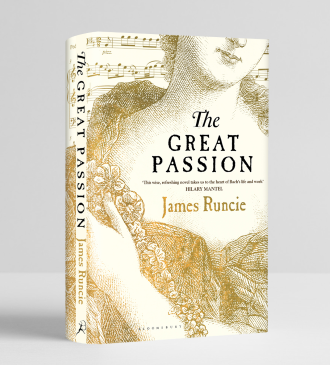 Leipzig, 1726. Eleven-year-old Stefan Silbermann, a humble organ-maker's son, has just lost his mother. Sent to Leipzig to train as a singer in the St Thomas Church choir, he struggles to stay afloat in a school where the teachers are as casually cruel as the students.
Stefan's talent draws the attention of the Cantor – Johann Sebastian Bach. Eccentric, obsessive and kind, he rescues Stefan from the miseries of school by bringing him into his home as an apprentice. Soon Stefan feels that this ferociously clever, chaotic family is his own. But when tragedy strikes, Stefan's period of sanctuary in their household comes to a close.
Something is happening, though. In the depths of his loss, the Cantor is writing a new work: the St Matthew Passion, to be performed for the first time on Good Friday. As Stefan watches the work rehearsed, he realises he is witness to the creation of one of the most extraordinary pieces of music that has ever been written.
The Great Passion is a wonderfully rich, audacious and, to me, surprising novel; surprising because all I have previously read of James Runcie's work are his Granchester detective novels... On the evidence of these books, I would never have expected anything on the scale and magnificence of The Great Passion…This is a delightful novel, also one which reveals a Germany foreign or, I would think, unknown to most of us. It is a novel which deserves to last and will surely do so. It is surely James Runcie's masterwork, a novel written with love and understanding.
Runcie is brilliant at chronicling Bach's mission to take the messiness of grief and love and turn them into something beautiful and sacred. Even readers as tone-deaf as I am will be enriched by this novel and its glimpse at genius
To conjure him as a man, a writer needs to focus very sharply, and, whether in his bestselling Grantchester stories or award-winning documentaries, Runcie is expert at focus… Warmly, reverently, Runcie brings alive what it is like to take part, for the very first time, in one of the most extraordinary pieces of music ever written
It's a warm, tender novel, brimful of emotion and empathy, as the fascinating characters grapple with faith, feelings and fellowship. But it's Runcie's description of the music that is truly marvellous. Intoxicating, insightful and revelatory, he brilliantly tackles the difficult task of using words to capture the intricacies of Bach's fervent work on the beautiful, groundbreaking masterpiece, St Matthew Passion.
Bach emerges as an intense, flawed, deeply religious man, and through a poignant exploration of grief and love, Runcie brings his glorious music thrillingly to life.
Like the St Matthew Passion, this is a novel filled not just with loss and lamentation but with transcendent joy. Runcie's prose sings. Soli Deo gloria!
This sublime novel about the domestic and spiritual genesis behind Johann Sebastian Bach's writing of his St Matthew Passion – first performed in Leipzig on Good Friday, 1727 – is every bit as brilliantly dramatic as Peter Shaffer's 1979 play Amadeus. I couldn't put it down... The Great Passion is a deep fictional meditation on the same themes – prayer, pride, sin, grief, sorrow, pain, redemption, salvation – that make Bach's sacred oratorio one of the greatest works of religious music. Runcie does justice to his ambitious theme and pulls off a mini-masterpiece of his own.