Tap Dancing with Jean Paul Sartre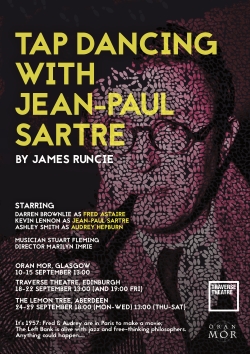 Paris. Spring. 1956. A meeting between Fred Astaire, the world's greatest dancer, Jean Paul-Sartre, the world's most influential philosopher and Audrey Hepburn, the world's most beautiful woman. What do they talk about and how can they learn from each other?
This is a musical comedy about existentialism. Fred and Audrey teach Sartre to tap dance and, in return, he teaches them the meaning of life.
It was directed by Marilyn Imrie and first performed at Oran Mór in Glasgow, the Traverse Theatre Edinburgh and The Lemon Tree Aberdeen in the autumn of 2018 with Ashley Smith, Kevin Lennon, Darren Brownlie and Stuart William Fleming.
It's all charm … this gorgeous gem of a play
Runcie threads the quiddities of existentialism into the froth of a rom-com, lets his tap-talented cast cut loose under the canny direction of Marilyn Imrie. Singing is accompanied live by pianist Stuart William Fleming, ensuring that the sweet, swing-along meaning of life is doo-ah, doo-ah, doo-ah … Do go!
A great piece of theatre you'd be out of your mind to miss